Orlando Pipeline Leak Detection Services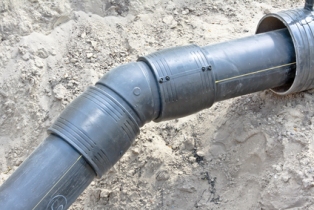 It is a well-known fact that most pipelines will probably spring a leak at some point in their existence. Since they are located out of sight, most pipelines go unattended to for longer than the manufacturer recommendation. Orlando pipeline leak detection experts, such as Above & Beyond Leak Detection, Inc., specialize in locating these inevitable water leaks that can result from the pipeline aging process.
Our Orlando leak detection company utilizes a variety of different leak detection methods to locate the pipe leak or pipeline separation. Some of these plumbing leak detection methods involve listening to the ground with an electronic sonar listening device. This is an advanced leak detection device which can hear even the tiniest of water leaks underground.
Orlando pipeline leak detection and leak detection is important since it can literally waste hundreds to thousands of gallons a water over the course of a year. Not only will your water bills skyrocket from the pipe leak, but you'll also have to bear the expenses for any water damage done to your home as a result of a leaking pipeline. Contact our professional pipeline leak detector and leak detection experts for service that you can count on.
Our Orlando Pipeline Leak Detection Services
Pipeline Leak
Water Leaks
Plumbing Leaks
Leak Detection

Leak Inspection
Water Leak Detection
Water Leak Inspection
Pipe Leak

Pipe Leak Detection
Leak Detector
Pipe Leak Inspection
Pipeline Leak Detection
We Provide Pipeline Leak Detection to the Following Towns in Flordia
Orange County - Orlando, FL | Oviedo, FL | Winter Springs, FL | Altamonte Springs, FL | Longwood, FL | Apopka, FL | Lake Nona, FL | Kissimmee, FL | Windermere, FL | Melbourne, FL | Daytona Beach, FL | Sanford, FL | Titusville, FL | Cocoa Beach, FL | Palm Bay, FL | Deltona, FL | Clermont, FL| Casselberry, FL
Recent Articles About Pipeline Leaks
If you are looking for Orlando Pipeline Leaks then please call 407-692-5868 or complete our online request form.