THe Orlando Slab Leak Detection Experts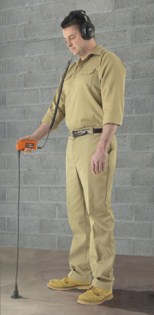 You may not realize that slab leaks are actually more common than most homeowners realize. Unfortunately, there are quite a few things that can go wrong every now and then, and having your home slowly sink into the ground is one of them. Your concrete slab foundation is the foundation that holds the weight of your house, preventing it from sinking into the dirt. However, when water is added to the dirt and soil below the concrete slab, your house can begin to sink. In order to avoid this from happening to your home, call on the Orlando slab leak detection experts at Above & Beyond Leak Detection, Inc.
Some of the indicators of slab leaks include damp spots on the carpeting or on the floor itself which do not orginate from water falling from above or any other obvious explanation. If you start to notice any indicators that a water leak may be occurring in your slab, you should not waste any time in calling an expert Orlando leak detection company. We have all the proper equipment, expertise and know-how to find any slab leaks, water leaks, or leak in slab. Once we use our leak detector to pinpoint the slab leak in Orlando, we can provide professional slab leak detection that will be quick and painless.
Our Orlando Slab Leak Detection Services
Slab Leak
Leak Detection
Leak Inspection
Water Leaks

Leak in Slab
Water Leak Detection
Slab Leak Inspection
Slab Leak Detection

Water Leak
Water Leak Detector
Leak Detectors
Foundation Leak
We Provide Slab Leak Detection to the Following Towns in Flordia
Orange County - Orlando, FL | Oviedo, FL | Winter Springs, FL | Altamonte Springs, FL | Longwood, FL | Apopka, FL | Lake Nona, FL | Kissimmee, FL | Windermere, FL | Melbourne, FL | Daytona Beach, FL | Sanford, FL | Titusville, FL | Cocoa Beach, FL | Palm Bay, FL | Deltona, FL | Clermont, FL| Casselberry, FL
Recent Articles About Slab Leaks
If you are looking for Orlando Slab Leak Detection then please call 407-692-5868 or complete our online request form.